The CTB Mid Back Protocol (eCourse)
Learn to Design Effective Treatments for Mid-Back, Abdominal and Chest Pain
Pain between the shoulder blades, abdominal and chest pain can be very disturbing conditions for clients. It's very easy to make assumptions that these complaints have their origins in serious medical issues, yet very often they are simply manifestations of trigger point phenomena. This part of the body has several closely connected networks that complicate the analysis for therapists. Pain is often projected back to front and vice-versa, and breathing has a profound influence on many muscles in this area.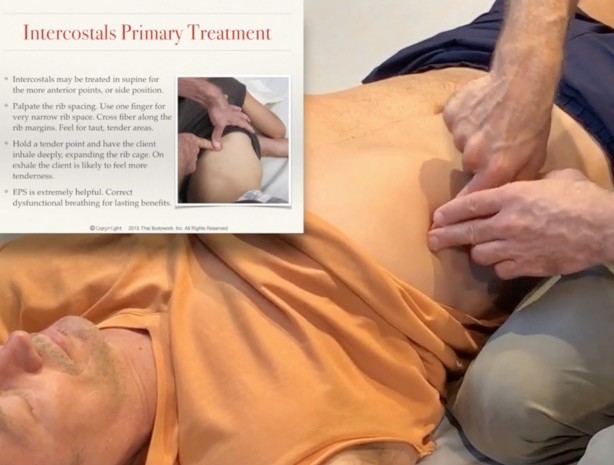 Clinical Thai Bodywork for Mid-Back, Abdominal and Thoracic Pain gets to the true roots of these pain complaints and shows you in depth how to treat each of the muscles that are potentially involved. Integrating these muscle treatments into an efficient and well-designed 60 or 90-minute session is a very difficult task. That's where our amazing Protocol courses come in.
It would take many hours to thoroughly treat all of these muscles, and without the insight that has emerged from Chuck's decades of clinical experience, you are likely to spend a lot of inefficient time in less useful areas and techniques. Our protocols give you a base sequence and a set of decision points at each step of the way, allowing you to eliminate unimportant muscles and techniques that wouldn't help your client's specific complaints.
There is nothing like this available anywhere in the bodywork world. Not only has Chuck thoroughly analyzed the muscles relevant to a specific pain complaint, through years of experimentation he's come up with a short list of the best techniques for each muscle. This knowledge is worth its weight in gold for a bodyworker.
For a modest investment, you will have 24/7 lifetime access to Chuck's knowledge and illustrative examples as he guides you through the Hip protocol. Use your mobile device or notebook and follow along with your practice partners, or quickly review video before a session with a client. This is a tool that can totally transform your bodywork practice.